Well, Hello there! How are you?
We are all good, not too much has changed around here. We are still in Hawaii (3 1/2 years now) and loving every minute of it! Ever since we hit the 3 year mark whenever I answer the question "How long have you been here?" I am immediately asked "Are you leaving soon?" because the average time at any duty station is 3 years. We will still be here for a while, we don't yet know when or where we will go next. I want to make the most of the remaining time we get to live on this beautiful island!
Hubby and I have finally taken up hiking! I was very hesitant at first I had not gone hiking since I was a teenager and it's majorly out of my comfort zone but I'm hooked! Whenever Hubby has a day off and the kids are in school we plan on going! We have only done 2 so far but plan on doing a few more next month! We have taken the kids on one easy paved hike so far. More details and pictures on all that later!
April is Autism Awareness month and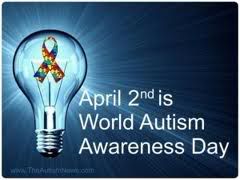 We (myself, hubs & kids) will all be participating in the Autism Walk which in Hawaii is on April 20th! I'm really looking forward to it, it will be our first year participating and I myself have never been involved in an event like that! I'm excited!
That's all the updates I have for now.
More soon!
Trisha