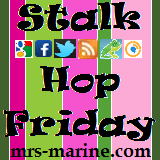 I'm sorry to say, I have not had time to keep up with Stalk Hop Friday for quite some time. I have finally decided the Hop will be taking a break. I'm not sure for how long, but I thoroughly enjoyed hosting it so it will be back!
As always if you follow me in any way let me know and I will return the follow! Happy Hopping!
Thanks for participating!
For more Blog Hops check out my

Since your already here, LINKY FREE FOR ALL:
Trisha