This is our new kitty Aurora, she is 1 year old! We adopted her from the Humane Society a few weeks before Christmas!
Our other cat Ginger was not too sure about her at first... But after a few days she came around and they are now good friends!!!
Link to your WW post on the Linky below!
Don't just leave a link and run, its rude. Leave a comment as well!
Visit my co-host Olivia Blue Music
For more Wednesday Link-ups check out my Blog Hop Directory!
Stalk me (I Follow back)! Link-Up and Follow 5-Ways all week long: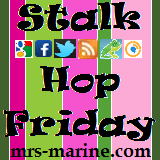 Trisha