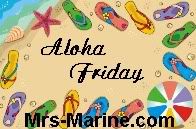 This Weeks Question:
Do you know how to drive a stick (manual transmission)? Do you currently drive a stick or automatic? Which do you prefer?

My Answer:
I learned how to drive on a stick and my first two cars were sticks. But my last two have been automatics, which I prefer. It's been a long time since I have driven a stick, but it's like riding a bike, you never forget.
Answer my question in a comment.
Leave a link to your "Aloha Friday" post in your comment
and Ill be sure to stop by and answer your question!
Aloha Friday began at
An Island Life
, In Hawaii, Friday is the day to relax and take it easy. So, here is an easy and fun post to start the weekend!
Grab My AF Button!

Trisha