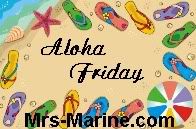 This Weeks Question:
Have you ever used or even seen (in real life) a Rotary Telephone?
The other day I mentioned to my friend "K" that the alarm clock on my cell phone sounds like an old telephone (she didn't even remember what that sounded like). The ring phones used to make before we were able to program them to sound differently. Back when home phones were still connected to a cord and the wall, when EVERYONE still had a land line.
My Answer:
Yes! We had a rotary phone when I was a kid and my grandma had one as well.
Answer my question in a comment.
Leave a link to your "Aloha Friday" post in your comment
and Ill be sure to stop by and answer your question!
Aloha Friday began at
An Island Life
, In Hawaii, Friday is the day to relax and take it easy. So, I take it easy on posting!
Grab My AF Button!

Trisha