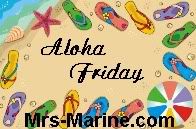 This Weeks Questions:

How many days left of summer break from school?
Or
How many years has it been since you graduated High School?

A: Sissy begins 3rd grade on Monday, in 3 days!
I graduated from High School 13 years ago... I cant believe it's been that long...
Answer my question in a comment.
Leave a link to your "Aloha Friday" post in your comment
and Ill be sure to stop by and answer your question!
Aloha Friday began at
An Island Life
, In Hawaii, Friday is the day to relax and take it easy. So, I take it easy on posting!
Grab My AF Button!

Trisha