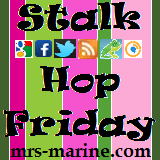 Blog hops are a wonderful way to make new Bloggie Friends and gain new Followers for your blog (or Twitter, Facebook, whichever your linking to on the particular hop - my hop links up 6-ways)!
If you plan on participating in a blog hop, there are a few guidelines every hopper should stick to.
1. Make sure you are linking up and commenting on the Most Recent Hop Post!
Not a post that is several weeks, or months old... My "Stalk Hop Friday" posts are numbered, so when I get a comment in my email box its easy to tell if it was left on the current Stalk Hop post or a older one. Just the other day someone left a comment on my very first Stalk Hop post which was on Jan. 21... I get comments on older posts every week, why would someone do that? My posts all have dates on them? I would understand if I didn't have dates on my post (some bloggers don't), but it's quite obvious that its an older post. I'm wondering how they ended up at that post.....???? I just went through and closed all my old linkys, maybe that will give people the hint...
2. When linking to your blog, write a post stating your hoping.
Not only to let your blog readers know your participating in a Hop, but more importantly, if you want others to follow you back, give them a specific post to leave a comment on. Your post does not need to have a linky or be complicated. It can be as simple as, "Blog Hoping Today, come join me!" It's common courtesy to include the button of the hops your participating with in your post, or somewhere on your blog.
Personally it's very annoying when I have to scroll through a bunch of giveaway posts and review post looking for a basic post to comment on, which I don't have the time to read, so I end up leaving a comment that doesn't pertain to the post. When I return my follow comments I usually have a lot to do and don't have time to sit and read 20+ posts, I need a post I can quickly comment on, stating "Thanks for following, got you back"... (sorry for the rambling, do you get my point?)
3. Unless otherwise stated, when linking your blog, the purpose is to Follow on GFC
(Google Friend Connect) so make sure you have a Follow gadget/widget on your blog!!! It should look something like this:
Trisha