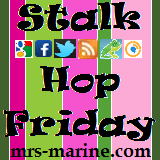 Grab the Badge:
Welcome to my New "Stalk Hop Friday"! This one is a little different from the usual, instead of just following on Google Friend Connect (GFC), each week the "Follow Theme" will rotate to something different!
There will be two linky's, one for the Theme and one for GFC so pay attention!
With two, everyone has a chance to participate even if your not on Twitter, *gasp*!
RULES:
**Follow me on this weeks "Follow Theme" If your a New follower be sure to leave a comment and I will follow you back (it may take me a day or two)
**Leave your Link to this weeks "Follow Theme"
(e.g. http:// - twitter.com/username - facebook.com/page - theblogfrog.com/1234567)
**Blog links: Snag the Badge and write a post about "Stalk Hop Friday" so others have a post to comment on and Follow you! Help spread the word and make this hop big!
**Hop around the Links ("Stalk" each other) Follow others, Follow Back, have fun!
Theme Linky: Link to your Facebook Page below! http://www.facebook.com
/mrsmarineblog
GFC Linky: Link to your Blog "Stalk Hop Friday" post below!
Theme Schedule:
Week 1. Facebook "Like" Page
http://www.facebook.com/mrsmarineblog
Week 2. Twitter
http://twitter.com/mrsmarine
Week 3. Blog Frog
http://theblogfrog.com/1162233
Week 4. Network Blogs
http://apps.facebook.com/blognetworks/blog/mrs._marine_the_tiny_troops
Week 5. RSS Feed
http://feeds.feedburner.com/MrsMarine
--Repeat
If you would like to be a Co-Host on the Hop email me!
Trisha