If your my newest
Follower
, Thank You, be sure to leave me a comment so I can follow you back!
Aloha Friday:
Answer my question in a comment. Play along, write your own "Aloha Friday" post then
link up below
and Ill be sure to stop by and answer your question!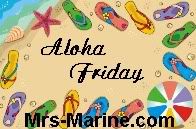 Grab the Badge:
This Weeks Question:
Are your Holiday Decorations still up?

A: We took ours down already, and the only reason why is, Hubby is leaving for training next week and so either we took them down early, I take them down by myself, or leave them up until the end of February when he gets back... The outside lights on the roof was the main part I could not do by myself. It's kind of annoying me now that my neighbors still have their decorations up... Mine are down, theirs should be too.
What's Aloha Friday? It all started at An Island Life In Hawaii, Friday is the day to relax and take it easy. So, I take it easy on posting!
Don't just leave a link and run, its rude. Leave a comment as well!
Vote daily for my blog:
Trisha