If your my newest
Follower
, Thank You, please leave me a comment with your blog URL and I will follow you back! Also check out this weeks Aloha Friday question below!
Aloha Friday:
Answer my question in a comment. Play along, write your own "Aloha Friday" post then
link up below
and Ill be sure to stop by and answer your question!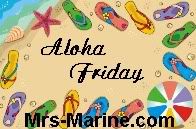 Grab the Badge:
This Weeks Question:
Do you use coupons?

A: I do not cut out coupons, we dont even get a regular news paper or anything that has them in it, but if I see them hanging in the store for something I want then I will definitely grab it and use it then. Sometimes I get coupons inside packaging and I will also "try"to use those if I remember to take them to the store with me, and remember to give them to the cashier....
What's Aloha Friday? It all started at An Island Life In Hawaii, Friday is the day to relax and take it easy. So, I take it easy on posting!
Don't just leave a link and run, its rude. Leave a comment as well!
Vote daily for my blog:
Trisha