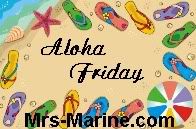 This Weeks Question:
What are you Thankful For? I already know the obvious so tell me something fun, crazy and totally selfish, what's your vice?

A: I'm Thankful for Chocolate, Coffee and my DVR so I never have to watch commercials or miss my favorite shows!
Happy Birthday to my Mommy!!
Answer my question in a comment. Play along, write your own "Aloha Friday" post then
link up on Mr. Linky
and Ill be sure to stop by and answer your question!