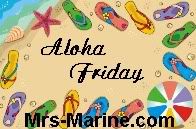 This Weeks Question:
What is your favorite Holiday Song?

A: I Love all the Holiday/Christmas music! My top two favorite songs would have to be "Winter Wonderland" and "12 Days of Christmas".
What's Aloha Friday? It all started at An Island Life In Hawaii, Friday is the day to relax and take it easy. So, I take it easy on posting!
Answer my question in a comment. Play along, write your own "Aloha Friday" post then
link up below
and Ill be sure to stop by and answer your question!
Don't just leave a link and run, its rude. Leave a comment as well!
Trisha