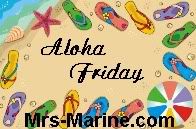 This Weeks Question:
Are your Holiday / Christmas decorations up yet?

A: I put up most of my decorations at the beginning of November when I took down my Halloween decor. I needed Hubby's help with the lights outside, so those went up over the past week. The tree however is not up yet, only because we have a very mischievous kitty whom I DONT trust to leave the tree alone. So we have ordered a new cat deterrent thing online to keep her away from it. It should be here tomorrow, so we can put up our tree this weekend!!
Answer my question in a comment. Play along, write your own "Aloha Friday" post then
link up on Mr. Linky
and Ill be sure to stop by and answer your question!
What's Aloha Friday? It all started at An Island Life In Hawaii, Friday is the day to relax and take it easy. So, I take it easy on posting!
Grab My AF Button!

Don't just leave a link and run, its rude. Leave a comment as well!
Trisha