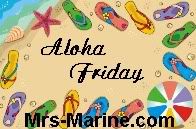 This Weeks Question:
What are your plans to ring in the new year?

A: Were staying in tonight, probably going to play Wii, may have some friends over, but tomorrow night were going out! It's Hubby's Birthday on January 1st!
What's Aloha Friday? It all started at An Island Life In Hawaii, Friday is the day to relax and take it easy. So, I take it easy on posting!