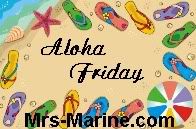 This Weeks Question:
Are you HTML/CSS Savvy?

A: I am Now, and self taught I am proud to say! I have learned a lot across the internet thanks to lots of other blogs and websites who post about blogger hacks, CSS tips, etc etc... I have a somewhat Obsessive Compulsive need to constantly tweak and change my blog and make it look exactly the way I want it too. If you ever see anything on my blog you want to learn how to do or add to yours, just ask. I may start writing posts about blog tweaks I have learned on my own. I'm definitely not afraid to play around with my template code (as long as I back it up first). If I want to do something I will eventually figure out how. Trial and error....
Answer my question in a comment. Play along, write your own "Aloha Friday" post then leave your link with Mr. Linky and Ill be sure to stop by and answer your question!
What's Aloha Friday?
It all started at An Island Life In Hawaii, Friday is the day to relax and take it easy. So, I take it easy on posting!
Grab My AF Button!

Don't just leave a link and run, its rude. Leave a comment as well!
Trisha