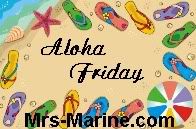 This Weeks Question:
What's the longest amount of time you have lived in one house?

A: When I was a teenager we lived in the same house for about 6 years. Check out Tomorrow's post for more details. As of tomorrow we have been in Hawaii for 1 year! 2 more to go!
Answer my question in a comment. Play along, write your own "Aloha Friday" post then leave your link with Mr. Linky and Ill be sure to stop by and answer your question!
What's Aloha Friday? It all started at An Island Life In Hawaii, Friday is the day to relax and take it easy. So, I take it easy on posting!
Use My AF Button!

Mrs. Marine
Trisha