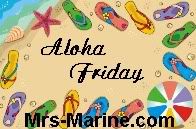 This Weeks Question:
What are you doing on Sunday, July 4th?

A: I still have no idea if were going to do anything. Hubby's gone, and I like to watch fireworks, I dont want to be the one setting them off, I would burn myself. Not to mention, Bobo doesn't like loud noises, he gets scared.
Answer my question in a comment. Play along, write your own "Aloha Friday" post then leave your link with Mr. Linky and Ill be sure to stop by and answer your question!
What's Aloha Friday? It all started at An Island Life In Hawaii, Friday is the day to relax and take it easy. So, I take it easy on posting!
Use My AF Button!

Mrs. Marine
Trisha