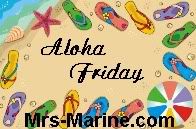 This Weeks Question:
Have you Ever, or would you ever sing Karaoke in a public place?

A: I have, and so has my husband. We went to a Karaoke bar with my sister and her friends when we were first dating and we both sang a song, not together. I might do it again if I was out and my friends with me were doing it too. I'm not usually a "follower" but I'm not brave enough to sing Karaoke unless people I know are doing it too.
Answer my question in a comment. Play along, write your own "Aloha Friday" post then leave your link with Mr. Linky and Ill be sure to stop by and answer your question!
What's Aloha Friday? It all started at An Island Life In Hawaii, Friday is the day to relax and take it easy. So, I take it easy on posting!
Use My AF Button!

Mrs. Marine
Trisha