In Hawaii, Friday is the day to relax and take it easy. So, I take it easy on posting!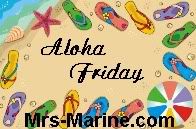 I ask a question and you answer it in a comment. Play along and write your own "Aloha Friday" post then leave your link with Mr. Linky and Ill be sure to stop by and answer your question!
Question of the day:
Are you a coffee drinker? If so, how much do you drink per day, how do you like it, how long have you been a coffee drinker?

A: Once upon a time I use to say "Orange Juice is my Coffee". Those days are long gone. I became a coffee drinker about 4 years ago. I only like flavored coffee, w/ flavored creamer in it. I have one large cup every morning. On occasion I will have another cup in the afternoon or If I'm out somewhere that has great iced/flavored coffee I will get one.
Use My AF Button!

Mrs. Marine
Trisha