In Hawaii, Friday is the day to relax and take it easy. So, I take it easy on posting!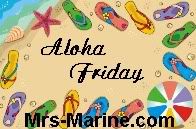 I ask a question and you answer it in a comment. Play along and write your own "Aloha Friday" post then leave your link with Mr. Linky and Ill be sure to stop by and answer your question!
Question of the day:
What is your Favorite Disney Movie?

A: Alice in Wonderland (the original cartoon done in 1951).
But I have also seen the New version by Tim Burton (which I enjoyed, I saw it in 3D which was awesome). Also the older version's of Alice in Wonderland and Through the Looking Glass from 1985 that had all real actors in costumes, Ringo Starr played the Mock Turtle.
Use My AF Button!

Mrs. Marine
Trisha