In Hawaii, Friday is the day to relax and take it easy. So, I take it easy on posting!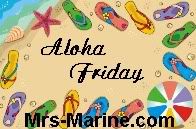 I ask a question and you answer it in a comment. Play along and write your own "Aloha Friday" post then leave your link with Mr. Linky and Ill be sure to stop by and answer your question!
Question of the day:
Were you a fan of the show LOST? If so, what did you think of the ending?

A: YES! I'm kinda annoyed by the ending, it really left it open for interpretation and personal theories. I suppose that was to be expected, that's how the whole series was....
Use My AF Button!

Mrs. Marine
Trisha