In Hawaii, Friday is the day to relax and take it easy. So, I take it easy on posting!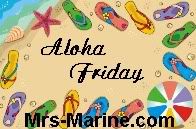 I ask a question and you answer it in a comment. Play along and write your own "Aloha Friday" post then leave your link with Mr. Linky and Ill be sure to stop by and answer your question!
Question of the day:
Have you EVER (be honest) gone to a store in your pajamas? (It doesn't count if your sick and only going to buy medicine or chicken soup).
A: I have gone in my yoga/workout pants but never my actual pajama pants (the pants I'm referring too have a stripe down the side and are clearly NOT pajamas.

Mrs. Marine
Trisha