In Hawaii, Friday is the day to relax and take it easy. So, I take it easy on posting!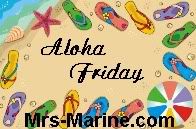 I ask a question and you answer it in a comment. Play along and write your own "Aloha Friday" post then leave your link with Mr. Linky and Ill be sure to stop by and answer your question!
Question of the day:
Do you know anyone who is or was in the Military, if so, who?
A: Besides my Husband of course. Both my father, and Father-In-Law were in the Army, neither went career. My brother-in-law was in the Navy, before he married my sister.

Mrs. Marine
Trisha