In Hawaii, Friday is the day to relax and take it easy. So, I take it easy on posting!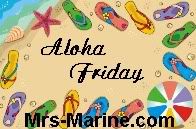 I ask a question and you answer it in a comment. Play along and write your own "Aloha Friday" post then leave your link with Mr. Linky and Ill be sure to stop by and answer your question!
Question of the day:
What did the Tooth Fairy bring you when you were a kid? Or if applicable, what did she bring your kids?
A: My sister and I always got a quarter from the Tooth Fairy and my mom had these little treasure chests too put our teeth in. Princess just got her first "wiggly tooth", we will see what the Fairy brings her.

Mrs. Marine
Trisha