In Hawaii, Friday is the day to relax and take it easy. So, I take it easy on posting!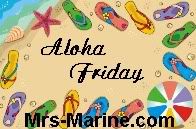 I ask a question and you answer it in a comment. Play along and write your own "Aloha Friday" post then leave your link with Mr. Linky and Ill be sure to stop by and answer your question!
Question of the day:
Do you like to cook? If so, how many do you cook for?
A: I hate cooking when Hubby is gone. Its really hard to cook a meal for myself and two very picky children. Bobo especially, these days he wont eat hardly anything....

Mrs. Marine
Trisha