In Hawaii, Friday is the day to relax and take it easy. So, I take it easy on posting!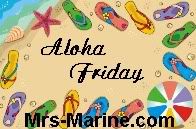 I ask a question and you answer it in a comment. Play along and write your own "Aloha Friday" post then leave your link with Mr. Linky and Ill be sure to stop by and answer your question!
Question of the day:
Are you participating in the

A: I am!!
Here is my Party Post!
It's a great way, to find new blogs, grow your own blog, get new readers, make friends! Its Awesome! This is my 2nd year participating!

Mrs. Marine
Trisha