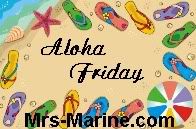 What's Aloha Friday? It all started at
An Island Life
. In Hawaii, Friday is the day to relax and take it easy. So, I take it easy on posting! I ask a question and you answer it in a comment. Play along and write your own "Aloha Friday" post then leave your link with Mr. Linky and Ill be sure to stop by and answer your question!
Question of the day:
How often do you wash your car?
A: Here in Hawaii it seems pointless to wash our cars. Not only does it rain often, but the rain I think has salt water in it, which leave terrible water spots on the car. So, even when we do wash it, its "spotty" again in a day or two....

Mrs. Marine
Trisha