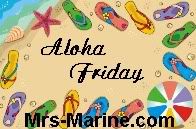 What's Aloha Friday? It all started at
An Island Life
. In Hawaii, Friday is the day to relax and take it easy. So, I take it easy on posting! I ask a question and you answer it in a comment. Play along and write your own "Aloha Friday" post then leave your link with Mr. Linky and Ill be sure to stop by and answer your question!
Question of the day:
Do you have pets? If so what and how many? What are their names?
A: Check out Wordless Wednesday if you missed her picture! We just have one cat named Ginger! I have almost always had a cat. I love cats! I got my first cat when I was 6/7 I think. Her name was Muffin.

Mrs. Marine
Trisha