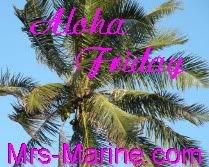 Question of the day:
What household chore do you hate the most?

A: I don't think anyone enjoys cleaning, its not any fun, but some things are more annoying or difficult than others right? For me its a tie between cleaning the shower (it kills my back) and folding laundry
, washing and drying is the easy part, I hate folding it and putting it away. Luckily Princess has learned to put her own clothes away, that's one down! Maybe some day I can get her to do my laundry too!

Mrs. Marine
Trisha