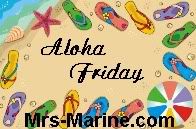 Question of the day:
When you were a kid how did you get to school? If you have kids how do they get to school?
A: Usually we lived close enough that I walked to school but in 7th grade I did have to ride the bus. And of course once I got my license in High School I drove to school.
Princess rode the bus to school last year and this year we are close enough to walk!

Mrs. Marine
Trisha