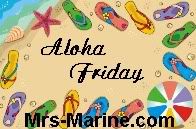 Does your state do the time change? What is your time difference from Hawaii?
A:
Hawaii does NOT do the time change and oddly enough, we are on the later time schedule, meaning it ALWAYS starts getting dark around 6:00 PM. You would think being its perpetual summer we would be on the earlier time schedule so it wouldn't get dark till later...
The local time here is: (I had a clock widget posted but I don't think it was working right)

Hawaii is in its very own time zone, were 2 hours behind California.

Mrs. Marine
Trisha