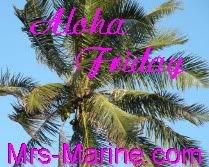 Question of the day:
What are your Halloween Costumes? Do the schools in your area let kids dress up?

A: Princess is Super Girl, Bobo is Super Boy! I am the Devil and Hubby is a person who went to Hell! Hubby and I are only dressing up tonight for the party were going to.
Princess only gets to wear her costume for Trick-Or-Treating, her school isn't doing anything... :(

Mrs. Marine
Trisha