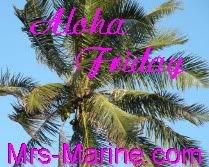 Question of the day:
Do you like candles, do you use them often?
A: I love candles, I have a Pumpkin Pie scented candle that I always use during October and November. Although with my kids I cant light it unless I put it up high out of reach, then I risk forgetting about it.... But it smells sooo good when I do!


Mrs. Marine
Trisha