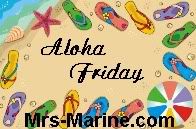 Question of the day:
Its Fall and its October, where are you and what is your weather like today
?

A: Today in Hawaii the high is 83, the low is 76 with scattered showers. I know, terrible right (sorry not trying to rub it in). I am actually missing fall weather right now. I love the when the leaves change color, in Virginia (our last duty station) it was so beautiful this time of year.

Mrs. Marine
Trisha