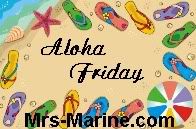 Question of the day:
Have you ever seen a jelly-fish (in the wild, not in an aquarium)?
Ever been stung by one (I hope not)?

A: I saw a wild jelly-fish for the first time a week after we moved here (see my last two posts).
I cant help but think of the episode of "Friends" where Monica gets stung and somebody ends up peeing on her too ease the pain.

Mrs. Marine
Trisha