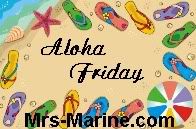 What's Aloha Friday? Visit
An Island Life
to find out.
Since we arrived in Hawaii I have been thinking about participating in Aloha Friday, because, if your a blogger who lives in Hawaii, I think it should be an obligation, right? :)


Question of the day:
Which M&M color and kind is your favorite? Also, is there a color you wont eat?

A: My fav is green, peanut-butter M&M's!
Mrs. Marine
Trisha